A few years ago Hong Kong -- to be crowned by UNESCO as a City of Gastronomy. This speaks volumes to the global influence of fiery Sichuanese / Szechuanese cuisine, arguably the most loved and feared regional culinary tradition to be exported from China. As a traveling foodie I was understandably eager to experience Sichuanese food at its purest and most authentic, which culminated in this 18-day circle trip around Chengdu. Taking advice from the locals we visited several highly-regarded Sichuanese restaurants in Chengdu which, together with the previously reviewed peasant favorites at Dujiangyan and Langzhong, provide a well-rounded snapshot of contemporary Sichuanese cuisine in Sichuan. Food Review: CHUNYANGGUAN (Chengdu) Address: Jixiang Street 6, Qingyang District, Chengdu Hours: 11:00-21:00? Website/Map: Map from Google Directions: Take the metro to People's Park station (or start from the east side of the Kuanzhai Alleys). Walk north on Changshun Shang Street. Turn left on Jixiang Street, about 5 blocks north of the Kuanzhai Alleys. The shop is about 100m down Jixiang Street on the left side. See the picture of the storefront below.
This scrubby little joint is arguably one of the best noodle houses in Chengdu, according to the locals. Located in a residential neighborhood north of the Kuanzhai Alleys, Chunyangguan is perfectly walkable (10 minutes) from one of Chengdu's most popular attractions and yet distant enough to remain entirely authentic. This is likely the first ever review in English, as this place remains mostly under the radar even among Chinese tourists.
Hole-in-the-wall eateries such as this form the very soul of Sichuan ese cuisine. The Sichuan ese themselves have an euphemism for such places -- Cangying Guanzi, or Eateries of Flies. Tables are often covered in a film of oil, the floors grimy and occasionally pieces of food scrap from the previous diner would remain sticking to the edge of the bowls. But we've never gotten sick from such places, and the food is typically spicy and always mouthwateringly good.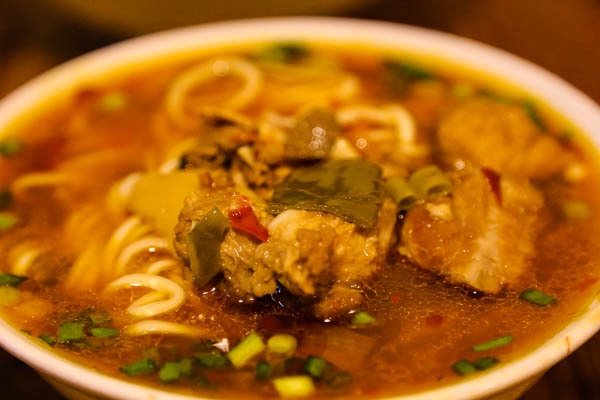 Every patron seemed to start with one signature dish -- a bowl of delicate, hand-pulled noodles topped with spareribs in fish-fragrance flavor. The noodles were perfectly al dente, and the depth of the soup base was a welcomed departure from the suicidal spiciness offered by most competitors. There's simply no need to mask anything with dollops of Sichuan Peppers when you've got a superior soup base like this.
The other crowd favorite was the Sichuanese Chaoshou I've ever had, for just RMB 7 (CAD$1.3). But that's still not the best dish according to my wife.
Her favorite was actually the cheapest dish, a RMB 4 (CAD$0.7) bowl of Steamed Egg Custard with Minced Pork. Fans of Japanese cuisine would recognize its similarity with Chawan-mushi, and the texture was as velvety as the best Chawan-mushi you could expect from the best Ryotei. It was a magical piece of Steamed Egg Custard, at an absolutely unbeatable price. The total came to RMB 22 (CAD$3.9) for a dinner for two, with appetizers and mains. I doubt that you can find a better deal for an authentic Sichuanese meal in Chengdu's increasingly affluent middle class on family outings. Here is where one would find the best variety of traditional and contemporary Sichuanese dishes. Food Review: HONGXING RESTAURANT (Chengdu Hours: 11:00-21:00 Website/Map: Map from Google Directions: Take the metro to Yipin Tianxia station. Take Exit C and walk north along Zhonghuan Lu. Hongxing is just 100m ahead on the left hand side.
Widely considered one of the safest bets for Sichuanese cuisine in Chengdu, Hongxing Restaurant is well-known for its excellent price-to-quality ratio. Several locations exist within Chengdu, and we picked the Yipin Tianxia branch for its proximity to the Jinsha Museum and the subway station. On a Sunday afternoon the dining hall was filled with boisterous regulars as well as a small wedding reception -- all telltale signs of a quality, authentic local restaurant.
We started with one of the spiciest dishes of our lives. And here's the kicker ... this was supposed to be the mild version. Featured on nearly every table, the restaurant's namesake Hongxing Chicken was a refinement of the Sichuan ese classic of Chicken in Chili Oil. It was a deadly combination of skyrocketing heat levels and mind-boggling addictiveness. While my wife was more disciplined, I simply couldn't stop popping the peanuts and chicken slices while my tastebuds were all numbing and wasting away. I may not want to order this again, but it was really good.
Another respectable dish was the Cellophane Noodles with Eel Strips, a classic hot-and-sour appetizer typically served in a large soup bowl to be shared by ten people. One thing I loved about Hongxing was that many popular dishes could be ordered in half or even personalized portions (one bowl for RMB 7 in this case), allowing for clients to customize their own "tasting menu."
Up next was one of the most highly regarded classical Sichuan ese dishes, a clear broth known as Chicken Tofu Pudding (Jidoufu). This is one of the purest and yet most intricate dishes in the Sichuan ese chef's repertoire, turning a chicken into the texture and consistency of the softest, silkiest tofu. It has to come from a perfectly deveined and de-tendoned chicken, the perfect mixture of egg white and supreme broth, simmered at the perfect temperature for the perfect amount of time -- one wrong step and the pudding falls apart. It was the molecular gastronomy of the early 1900's, satisfying the appetites of Chiang Kai-Shek and the like with a simple tofu that tasted of chicken. Except it's anything but simple, and we're lucky to be enjoying this highly labour-intensive dish in the 21st Century, and for just RMB 16 (CAD$2.9).
But my favorite dish was the classic of Sichuan ese classics, the ubiquitous Kung Pao Pork. It had everything I could wish for in a Kung Pao dish -- the perfect balance of fermented sweet bean sauce, dark soy and vinegar, well-caramelized green onions and crunchy peanuts, and the unabashed heat from Cayenne and Sichuan peppers. It's a family favorite that every Sichuanese mom knows how to make, but few would have the skills to nail this dish so flawlessly. At just RMB 28 (CAD$5.0) this was certainly one of the most memorable dishes of our trip.
Another favorite of Chengdu residents is the humble and filling Bean Soup with Rice (Doutangfan), which worked well to calm the tastebuds after so many spicy dishes. It's encouraging to see restaurants focusing not only on high-end money-making dishes, but embracing cheap peasant favorites as well.
We wrapped up with a plain dish of Bamboo Shoots Tips with Green Onions as a palate cleanser. From start to finish the quality of food was exceptional, especially considering its family-friendly prices. This is one restaurant I would love to revisit, for the Kung Pao Pork and everything else, the next time I drop by Chengdu. Bill for Two Persons Hongxing Chicken RMB 48 Kung Pao Pork RMB 28 Chicken Tofu Pudding RMB 16 Cellophane Noodles with Eel Strips RMB 7 Bamboo Shoots Tips with Green Onions RMB 22 Bean Soup with Rice RMB 4 Large Draft Beer RMB 16 Plate Sets x 2 RMB 4 TOTAL RMB 145 (CAD$25.9) After visiting two of Chengdu's best and most authentic eateries in the low- and mid-range, it was time to move up to the top tier. Months of anticipation preceded our visit of the legendary Gingko Restaurant, or Yinxing by the Funan River. Food Review: YINXING RESTAURANT (Chengdu) Address: Linjiang Middle Road 12, Wuhou District, Chengdu Hours: 10:00-22:00 Website/Map: Map from Google Directions: Take the metro to Huaxiba station and take Exit C. Walk north along People's Road and turn right along the river. Yinxing is a few hundred metres ahead on the right hand side.
This is the undisputed premier Sichuan ese restaurant in Sichuan. Period. We rarely visit restaurants of such class and opulence -- this is where local government officials and billionaires entertain people they really want to impress. Amid the gold-gilded statues and marble reception halls we barged in, arriving straight from Langzhong, with our oversized backpacks and hiking boots. How fitting. The locals' opinions on Yinxing can be described as polarized, often depending on the social status of the person you ask. Some consider it the utmost refinement of Sichuan ese culinary traditions while others snub it as a bourgeois establishment best known for bringing face to its clientele than for the quality of its dishes. Arriving at 13:45 we had the entire second floor to ourselves and were seated by the window, overlooking the giant Gingko tree of the restaurant's namesake.
We began our lunch with the classic Sichuan ese appetizer of Tea-Smoked Duck. While it did come out quite juicy and well-marinated, I probably expected a little more in terms of smokiness and depth of flavor when paying RMB 98 (CAD$17.5) for half a duck, twice as expensive compared with Hongxing. But as my wife, the duck connoisseur, did remember this dish fondly, it was probably quite respectable though not exceptional. My main goal at Yinxing was to sample one legendary Sichuan ese dish, in fact the lightest and plainest dish possible in the pantheon of classical Sichuan ese dishes. Arriving without a speck of chili nor a drop of oil, this was ...
Steamed Cabbage in Supreme Soup (Kaishui Baicai), a clear broth so light and so dependent on its Umami flavor that it could easily pass for Cantonese or Japanese. Originating from Qing Dynasty imperial cuisine, the supreme soup is said to be painstakingly extracted out of sizeable masses of dry-cured ham, chicken carcasses, dried scallops, shiitake mushrooms and the like through a day-long simmering process. The result was a deeply savory broth that appeared as crystal clear as spring water, hence the term Kaishui (boiled water). Neat experience, but not necessarily something I would spend RMB 68 (CAD$12) on. So far the service had been impeccable and the dishes well-executed, but I was expecting more, perhaps unduly, from a restaurant of Yinxing's reputation and prestige. I was half expecting the best ever execution of a Sichuanese classic, which finally came with the third dish ...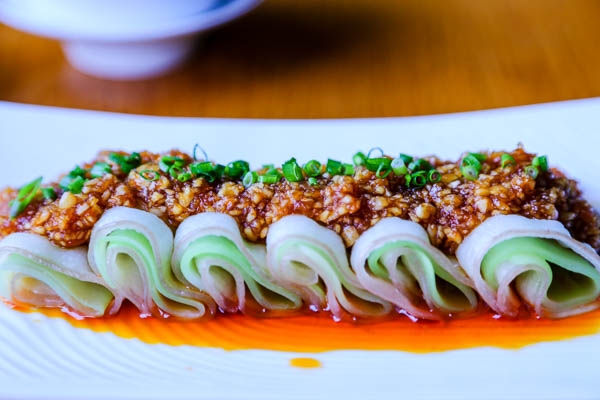 This was the best dish of our 18-day trip, and the best ever Sliced Pork with Minced Garlic (Suanni Bairou) I've ever tasted, by far. Purists may complain about the unorthodox presentation or the moderated use of chili peppers, but to me this was an absolutely impeccable dish. Presented here was a contemporary interpretation of the traditional Sichuanese appetizer, alternating paper-thin slices of marbled pork and stem lettuce and topping with a chunky tapenade of sauteed minced garlic and chili oil. The stem lettuce perfectly balanced out the oiliness of the pork, and the intensity of the garlic-cayenne mixture was superb without being overpowering. Call it Modern Sichuanese or even Sichuanese Fusion if you wish, but it was simply divine.
We finished with a refined and restrained version of the old Dandan Noodles, flavored with just a dab of minced pork and chili oil at the bottom. With just three appetizers, one bowl of noodles and tea for two, our lunch bill reached a substantial RMB 254 (CAD$45.4), easily our most expensive in Sichuan. The overall quality was quite good, and I would gladly return in a heartbeat just for the Sliced Pork with Minced Garlic. One word of caution though -- opulence is never cheap. Bill for Two Persons Sliced Pork with Minced Garlic RMB 48 Steamed Cabbage in Supreme Soup RMB 68 Tea-Smoked Duck 1/2 RMB 98 Dandan Noodles RMB 20 Iron Buddha Tea x 2 RMB 20 TOTAL RMB 254 (CAD$45.4) Sampled above were three authentic local restaurants representing Chengdu's culinary diversity in the low, mid and high ends of the price range. Having time for just one more lunch before our flight, we had a choice of some spicy hotpot (technically not a Sichuanese specialty as it's a Chongqing invention) or a tableful of Sichuanese street snacks. We chose the latter. Food Review: HUANGCHENGBA XIAOCHI (Chengdu) Address: Wuhouci Dajie 259, Wuhou District, Chengdu Hours: 09:30-21:30 Website/Map: Map from Google Directions: Start from the front gate of Wuhou Memorial Temple. Walk west for 600m and the restaurant is on the right hand side.
This is the only restaurant out of the four reviewed that I cannot fully recommend. The above three restaurants were all handpicked for their authenticity and quality rather than their locations (neither Chunyangguan nor Yinxing were particularly close to metro stations). Huangchengba's main selling point was its convenience -- a sit-down restaurant for all of Chengdu's cheap and filling peasant favorites, just 300m from the Wuhou Memorial Temple.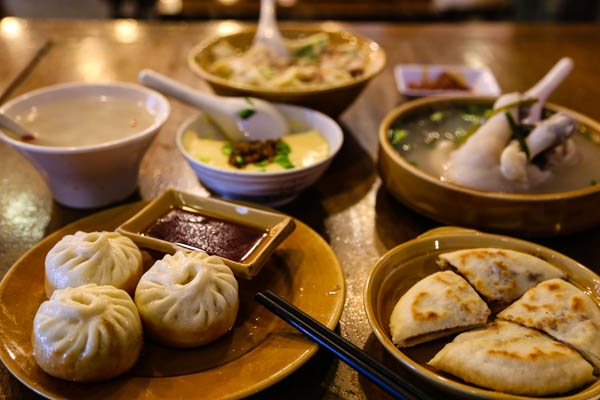 While the food was only slightly better than mediocre to be honest, it does satisfy one wish for the curious foodie -- a comprehensive sampling of a plethora of Chengdu's famous street snacks all under one roof. This goes completely against everything we know about China's street food culture, where the best usually come from little mom-and-pop operations focusing on the one item they do best. As the city centre becomes gradually gentrified and rents increase, it becomes more and more difficult even for the locals to track down their favorite Shuijiao shops.
That's the sad reality according to local foodies, the fact that the best street snack stands nowadays have been scattered over different neighborhoods in the city, and that franchised pretenders such as Longchaoshou (or Huangchengba in this case) simply lack that artisanal touch to replicate the delicate flavors of yesteryears.
Slow-Cooked Pork Hock with Fava Beans (Xuedou Dun Tihua) has always been a peasant favorite in Chengdu, giving rise to a whole street of Pork Hock eateries to the east of People's Park. We planned to visit the famous Laoma Tihua, but it burned down earlier in the year and had to temporarily close for renovations. This particular hock wasn't bad, though it's nowhere near as fall-off-the-bones tender as the one we had at a Pork Hock specialist eatery in Langzhong.
My wife ordered these Pan Fried Dumplings in her curiosity, hoping for something similar to what she had at the franchised Yang's Dumplings in Shanghai. While the bottom wasn't quite as thunderously crunchy as Yang's version, the generous volume of soup inside the dumplings made it quite enjoyable.
My wife didn't turn down the last chance for a Steamed Egg Custard before leaving Sichuan, while fully understanding that it wouldn't be as miraculously soft and smooth as Chunyangguan's custard. Again it was decent but still far from the best.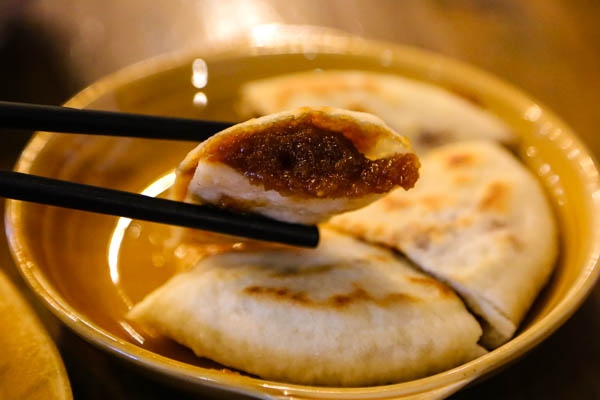 And you get the idea. Each item was consistently good enough for a casual meal but nothing really stood out. The best dish was probably this dessert of Guokui Bread with Red Sugar (again not quite as good as the ones we had at Daronghe, but much cheaper), which wrapped up our 18-day circle trip of Sichuan ese food tastes like, and what second- and third-rate Sichuan ese food taste like. That's all part of traveling. Bill for Two Persons Pan Fried Dumplings RMB 8 Guokui Bread with Red Sugar RMB 7 Chaoshou Dumplings with Dried Seafood RMB 12 Slow-Cooked Pork Hock with Fava Beans RMB 28 Glutinous Rice Balls with Sweet Fermented Wine RMB 6 Steamed Egg Custard with Minced Pork RMB 7 TOTAL RMB 68 (CAD$12.1) ORIGINAL POSTED BY PAUL